Satellite imagery shows the remnant wildfire smoke haze dispersing this morning, but some fires are still producing visible smoke plumes. We also expect easterly winds over the next few days and a Red Flag Warning is in effect for the West Cascade slopes of Lewis, Pierce, and King county due to dry and windy conditions. With the expected wind shift, a moderate amount of BC smoke is expected to drift down into the Puget Sound region this weekend. No Air Quality Alerts are planned at this time, but Moderate to USG smoke will likely impact northern counties for a couple days.
Residents in Okanogan have been living with intermittent smoke from nearby BC fires for quite some time, and that will continue. The fires in British Columbia continue to dwarf what is going on in our state. However, a low pressure system is expected to cause rain showers across the Pacific Northwest on Tuesday, and this should help limit temperatures and smoke production across the region. BC officials also report that there has been good progress on containing fires and some evacuees are being allowed to return home.
The Airplane Lake fire (2,300 acres) in the Glacier Peak Wilderness Area of Chelan County has been pushing smoke into the Wenatchee region. However, winds are shifting and Snohomish County communities like Darrington and Gold Bar will probably smell smoke over the next couple days. There are trail closures in the area around the fire.
The Sourdough fire (6,000 acres) in Whatcom County near Ross Lake is partially contained and firefighters report that opening SR-20 to thru traffic was a success. However, sensors around the Diablo Lake region are showing intermittent smoky conditions and trail closures are still in effect.
The Oregon fire in Spokane County is partially contained and firefighters continue to make great progress. Very little smoke is being generated at this time.
See the Health Information Tab on this blog for more information about how you can protect yourself from wildfire smoke. See the Local Smoke Outlooks for detailed forecasts in your area. Check WatchDuty for frequently updated information on local fires.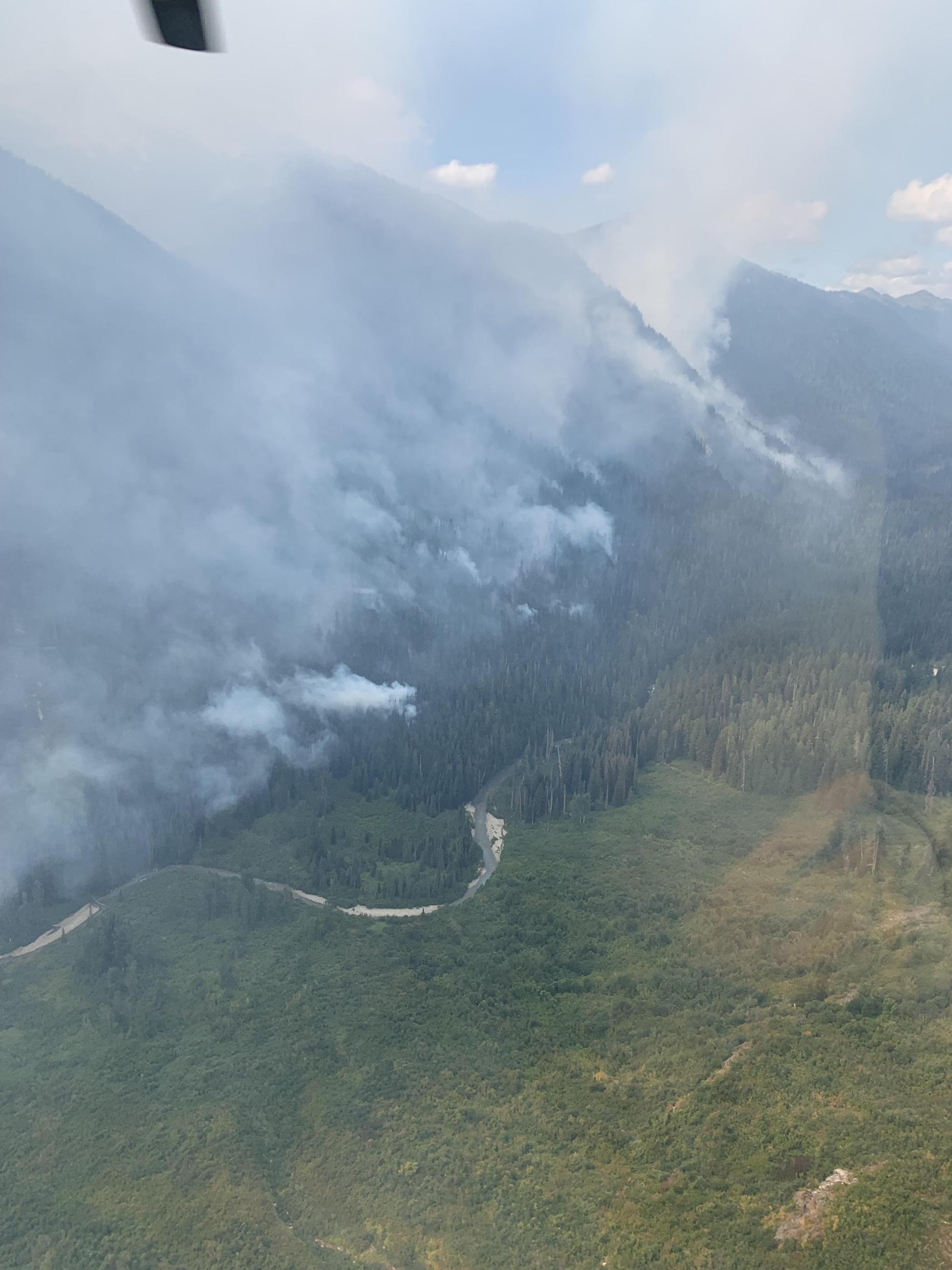 Smoke from the Airplane Lake Fire on August 22, 2023; courtesy of Inciweb
*** Update***
The Lookout Fire in Oregon is pushing smoke high into the atmosphere and being transported to the north, contributing to the haze over the region. Fire crews have progressed with firing operations designed to strengthen control lines, and fire growth has been considerable, contributing to the large smoke production.